Christmas 2004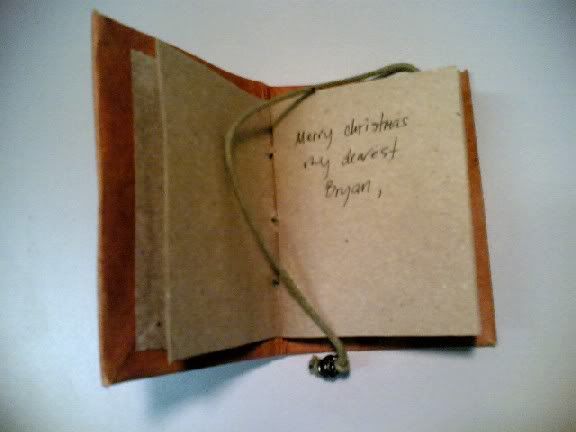 "Merry Christmas my dearest Bryan, although I did not expect you to be back in my life, much less hope you'd be with me again…and talking, laughing and spending time with you, at that moment was way out of mind. But…that night when you texted [sic] me, … that night when I called you twice and finally talked to you…that moment for me was no less than perfect. It's one of the moments in my life that I'll never forget. The timing was perfect. The FEELING was perfect. I couldn't ask for anything more. For what it's worth, I smiled the whole night after that, and I don't know why. I just closed my eyes and it felt good. So needless to say, I gave it another chance and one thing led to another, I knew it…I knew it that I love you.

You take care of me, treat me extra special, and you make me laugh… A LOT.

Going thru all this trouble for you is nothing simply because I love you. I know you know what I mean. I love you so much.

Of course its difficult, even hard at times not being able to spend time with you. Everyday without you is such a ++++. So all I can do sometimes is fantasize about you. Parang yung kanta ng The Platters ba yun? Whenever I want you, all I have to do is …dream… dream, dream, dream.

Kasi I know when we finally are together again, pag yakap na kita ulit… everything will be perfect again. Nothing else will matter for a while.

Yung moments na nag la-last forever ika nga, kasi nagmamahalan tayo eh.

We have everything anyone can hope for; someone to love and that someone loving them back.

I await for that day my love!

Take great care of yourself for me, please.

I love you so much.

Have a very happy Christmas.

Can't wait for you to come home soon.

Always,
++++"

--GREAT MY BREAST LID (an anagram)

This letter is reprinted with the knowledge and permission of the author.
Posted (reprinted) 03 June 2006